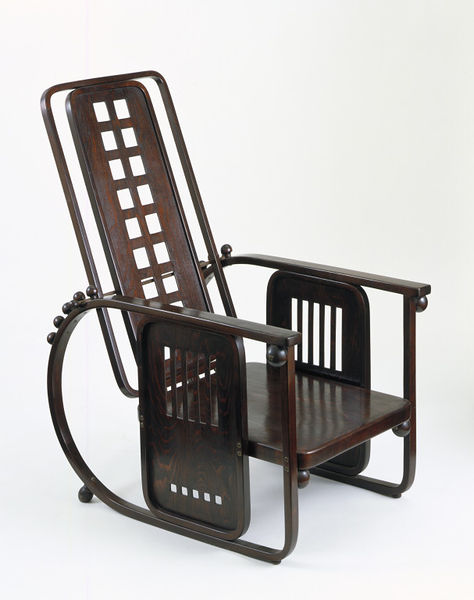 Illustration: Hoffmann, Josef, 1870-1956 Armchair, 1908, Vienna, Austria
Key themes
•Unity of the arts
•Joy in work
•Individual artistic expression
•Regional identity
See Elizabeth Cumming and Wendy Kaplan, The Arts and Crafts Movement, Thames and Hudson.

Germany
•Not involved with the medieval
•City based
•Artist inspired
•Industry and economic planning involved. Eventually for instance Peter Behrens would be in charge of Allgemeine Elektricitats-Geselleschaft (AEG)
German readers of The Studio and of Walter Crane's works.

Darmstadt
•1899: An artist's colony created in order to foster good craft techniques.
•Ernst Ludwig, sovereign ruler of grand duchy of Hessen und bei Rhein. Grandson of Queen Victoria. An anglophile. Inspired by Ashbee and Bailie Scott both of whom had worked on his palace.
•First group of seven artist/designers included Peter Behrens and Joseph Olbrich.

Austria
Vienna:
The Secessionists viewed Viennese culture as parochial and sought the best from elsewhere. They were a mixed group including artists, architects and designers.
In 1903 architect Josef Hoffmann and designer Koloman Moser formed Wiener Werkstätte (engl.: Vienna's Workshops)would become synonymous with arts and crafts in Austria.
In period 1895-1900 Austrians had begun to read Ruskin and Morris in translation.
Hungary
•Work by Walter Crane was exhibited in Budapest in 1900. He was hailed as a great master.
•Crane toured Budapest art schools and museums, he visited porcelain works in Pecs and travelled to Transylvannia.
•Ashbee would visit in 1905.
•Both were aware of the problems of the Hungarian situation: a peasant class threatened by industrialisation but also pressed by a feudal regime.
Scandinavia
•A Swedish museum curator visited Morris and Crane in London in 1891. The following year he opened Sub Rosa, a shop in Stockholm selling Morris and Co designs.
•In the 1890s several designers visited England and brought back an enthusiasm for arts and crafts style organisation.
•Swedish arts and craft was particularly focussed upon the idea of domestic art and "Beauty for All".
•The home of Carl and Karin Larsson in Dalarna province was looked upon as exemplary. A peasant home it was uncluttered and brightly painted in parts.
France and Belgium
•The French had an enthusiasm for Studio Magazine.
•Radical Belgian artists showed British arts and craft productions in Brussels. French culture had a complex set of reactions to Morris's ideas. Not least was the assertion that English national identity was somehow expressed in arts and crafts ideals.